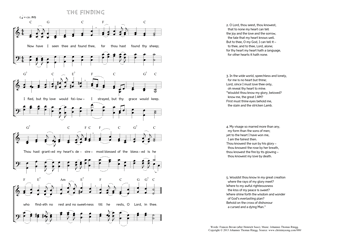 Christ My Song - 880
Now have I seen thee and found thee - The finding
(Heinrich Suso/Frances Bevan/Johannes Thomas Rüegg)
The finding.
Deuteronomy 32, 10.
1. Now have I seen thee and found thee,
for thou hast found thy sheep;
I fled, but thy love would follow –
I strayed, but thy grace would keep.
Thou hast granted my heart's desire –
most blessed of the blessed is he
who findeth no rest and no sweetness
till he rests, O Lord, in thee. (PDF - Midi)
2. O Lord, thou seest, thou knowest,
that to none my heart can tell
the joy and the love and the sorrow,
the tale that my heart knows well.
But to thee, O my God, I can tell it –
to thee, and to thee, Lord, alone;
for thy heart my heart hath a language,
for other hearts it hath none.
3. In the wide world, speechless and lonely,
for me is no heart but thine;
Lord, since I must love thee only,
oh reveal thy heart to mine.
"Wouldst thou know my glory, beloved?
know me, the great I AM?
First must thine eyes behold me,
the slain and the stricken Lamb.
4. My visage so marred more than any,
my form than the sons of men;
yet to the heart I have won me,
I am the fairest then,
Thou knowest the sun by his glory –
thou knowest the rose by her breath,
thou knowest the fire by its glowing –
thou knowest my love by death.
5. Wouldst thou know in my great creation
where the rays of my glory meet?
Where to my awful righteousness
the kiss of my peace is sweet?
Where shine forth the wisdom and wonder
of God's everlasting plan?
Behold on the cross of dishonour
a cursed and a dying Man."
H. Suso.
Frances Bevan, Hymns of Ter Steegen, Suso and others 1, 1899, 56-57, after Heinrich Suso.