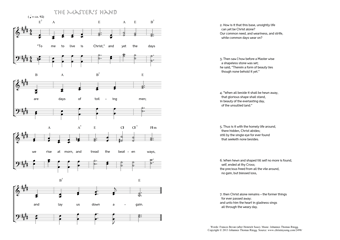 Christ My Song - 885
"To me to live is Christ," and yet the days - The Master's hand
(Heinrich Suso/Frances Bevan/Johannes Thomas Rüegg)
The Master's hand.
Philippians 1,21.
1. "To me to live is Christ," and yet the days
are days of toiling men;
we rise at morn, and tread the beaten ways,
and lay us down again. (PDF - Midi)
2. How is it that this base, unsightly life
can yet be Christ alone?
Our common need, and weariness, and strife,
while common days wear on?
3. Then saw I how before a Master wise
a shapeless stone was set;
he said, "Therein a form of beauty lies
though none behold it yet."
4. "When all beside it shall be hewn away,
that glorious shape shall stand,
in beauty of the everlasting day,
of the unsullied land."
5. Thus is it with the homely life around,
there hidden, Christ abides;
still by the single eye for ever found
that seeketh none besides.
6. When hewn and shaped till self no more is found,
self, ended at thy Cross;
the precious freed from all the vile around,
no gain, but blessed loss,
7. then Christ alone remains – the former things
for ever passed away;
and unto him the heart in gladness sings
all through the weary day.
Frances Bevan, Hymns of Ter Steegen, Suso and others 1, 1899, 77-78, after Heinrich Suso.