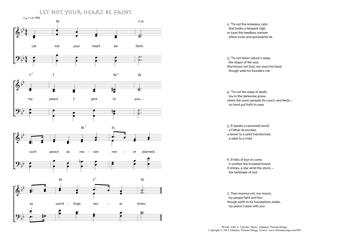 Christ My Song - 903
Let not your heart be faint
(John A. Latrobe/Johannes Thomas Rüegg)
Let not your heart be faint.
1. Let not your heart be faint:
my peace I give to you, –
such peace as reason never planned,
as worldlings never knew. PDF - Midi
2. 'Tis not the noiseless calm
that bodes a tempest nigh,
or lures the heedless mariner
where rocks and quicksands lie.
3. 'Tis not fallen nature's sleep,
the stupor of the soul
that knows not God, nor owns his hand,
though wide his thunders roll.
4. 'Tis not the sleep of death,
low in the darksome grave,
where the worm spreads its couch, and feeds, –
no hand put forth to save.
5. It speaks a ransomed world,
a Father reconciled,
a sinner to a saint transformed,
a rebel to a child.
6. It tells of joys to come;
it soothes the troubled breast;
it shines, a star amid the storm, –
the harbinger of rest.
7. Then murmur not, nor mourn,
my people faint and few:
though earth to its foundations shake,
my peace I leave with you.
John A. Latrobe, in: Schaff, Philip: Christ in Song, 1870, 411-412.