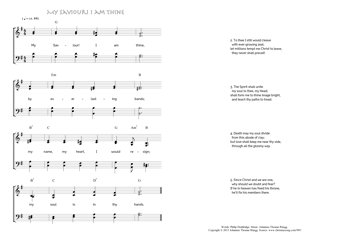 Christ My Song - 905
My Saviour! I am thine (Philip Doddridge/
Johannes Thomas Rüegg)
My Saviour! I am thine.
1. My Saviour! I am thine,
by everlasting bands;
my name, my heart, I would resign;
my soul is in thy hands (PDF - Midi).
2. To thee I still would cleave
with ever-growing zeal;
let millions tempt me Christ to leave,
they never shall prevail!
3. The Spirit shall unite
my soul to thee, my Head;
shall form me to thine image bright,
and teach thy paths to tread.
4. Death may my soul divide
from this abode of clay;
but love shall keep me near thy side,
through all the gloomy way.
5. Since Christ and we are one,
why should we doubt and fear?
If he in heaven has fixed his throne,
he'll fix his members there.
Philip Doddridge, in: Schaff, Philip: Christ in Song, 1870, 446.