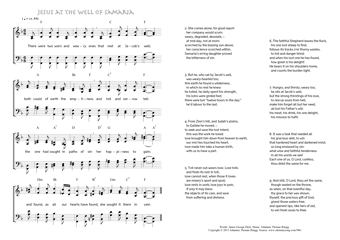 Christ My Song - 906
There were two worn and weary ones - Jesus at the well of Samaria (James George Deck/Johannes Thomas Rüegg)
Jesus at the well of Samaria.
John IV.
1. There were two worn and weary ones
that met at Jacob's well;
both could of earth the emptiness
and toil and sorrow tell:
the one had sought in paths of sin
her happiness to gain;
and found, as all our hearts have found,
she sought it there in vain. PDF - Midi
2. She comes alone, for good report
her company would scorn;
weary, degraded, desolate, –
at mid-day, not at morn:
scorched by the blazing sun above,
her conscience scorched within,
Samaria's erring daughter proved
the bitterness of sin.
3. But he, who sat by Jacob's well,
was weary-hearted too;
this earth he found a wilderness,
in which no rest he knew:
he toiled, he daily spent his strength,
his loins were girded fast;
there were but "twelve hours in the day;"
he'd labour to the last.
4. From Zion's hill, and Judah's plains,
to Galilee he moved, –
to seek and save the lost intent;
this was the work he loved:
love brought him down from heaven to earth,
our mis'ries touched his heart;
love made him take a human birth,
with us to have a part.
5. Toil never out-wears love. Love toils
and finds its rest in toil;
love cannot rest, when those it loves
are misery's sport and spoil;
love rests in work; love joys in pain,
if only it may bless
the objects of its care, and save
from suffering and distress.
6. The faithful Shepherd leaves the flock,
his one lost sheep to find;
follows its tracks o'er thorny wastes,
to toil and danger blind:
and when his lost one he has found,
how great is his delight!
He bears it on his shoulders home,
and counts the burden light.
7. Hungry, and thirsty, weary too,
he sits at Jacob's well;
but the strong thirsting of his love,
to rescue souls from hell,
make him forget all but her need,
all but his Father's will:
his meat, his drink, his one delight,
his mission to fulfil.
8. It was a task that needed all
his gracious skill, to win
that hardened heart and darkened mind,
so long enslaved by sin:
what wise and faithful tenderness
in all his words we see!
Each one of us, O Lord, confess,
thou didst the same for me.
9. And still, O Lord, thou art the same,
though seated on the throne,
as when, on that eventful day,
thy grace to her was shown:
thyself, the precious gift of God,
givest those waters free;
and openest lips, like hers of old,
to win fresh souls to thee.
James George Deck, Hymns and Sacred Poems, 1906, 127-129.