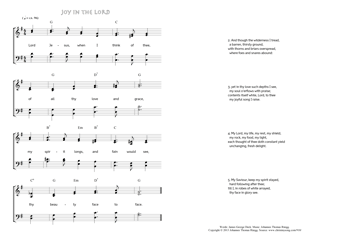 Christ My Song - 910
Lord Jesus, when I think of thee - Joy in the Lord
(James George Deck/Johannes Thomas Rüegg)
Joy in the Lord.
1. Lord Jesus, when I think of thee,
of all thy love and grace,
my spirit longs, and fain would see,
thy beauty face to face. PDF - Midi
2. And though the wilderness I tread,
a barren, thirsty ground,
with thorns and briars overspread,
where foes and snares abound:
3. yet in thy love such depths I see,
my soul o'erflows with praise;
contents itself while, Lord, to thee
my joyful song I raise.
4. My Lord, my life, my rest, my shield,
my rock, my food, my light,
each thought of thee doth constant yield
unchanging, fresh delight.
5. My Saviour, keep my spirit stayed,
hard following after thee;
till I, in robes of white arrayed,
thy face in glory see.
James George Deck, Hymns and Sacred Poems, 1906, 15.