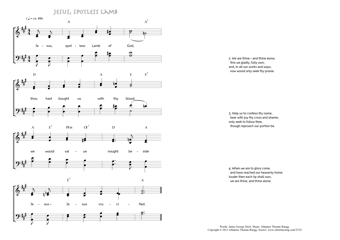 Christ My Song - 921
Jesus, spotless Lamb of God - Jesus, spotless Lamb
(James George Deck/Johannes Thomas Rüegg)
Jesus, spotless Lamb.
"Having loved his own." (John 13,1)
1. Jesus, spotless Lamb of God,
thou hast bought us with thy blood;
we would value nought beside
Jesus – Jesus crucified. PDF - Midi
2. We are thine – and thine alone,
this we gladly, fully own;
and, in all our works and ways,
now would only seek thy praise.
3. Help us to confess thy name,
bear with joy thy cross and shame;
only seek to follow thee,
though reproach our portion be.
4. When we are to glory come,
and have reached our heavenly home;
louder then each lip shall own,
we are thine, and thine alone.
James George Deck, Hymns and Sacred Poems, 1906, 31.