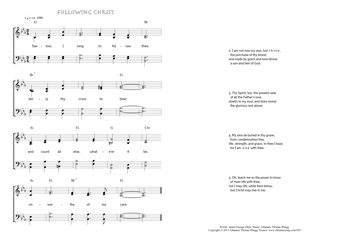 Christ My Song - 925
Saviour, I long to follow thee - Following Christ
(James George Deck/Johannes Thomas Rüegg)
Following Christ.
1. Saviour, I long to follow thee,
daily thy cross to bear;
and count all else, whate'er it be,
unworthy of my care. PDF - Midi
2. I am not now my own, but t h i n e ,
the purchase of thy blood;
and made by grace and love divine,
a son and heir of God.
3. Thy Spirit, too, the present seal
of all the Father's love,
dwells in my soul, and does reveal
the glorious rest above.
4. My sins lie buried in thy grave;
from condemnation free,
life, strength, and grace, in thee I have,
for I am o n e with thee.
5. Oh, teach me so the power to know
of risen life with thee,
not I may life, while here below,
but Christ may live in me.
James George Deck, Hymns and Sacred Poems, 1906, 45-46.