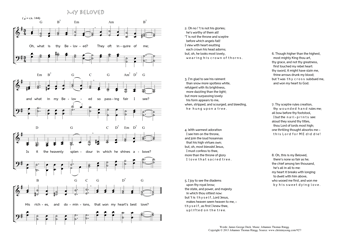 Christ My Song - 927
Oh, what is thy Beloved? - My Beloved
(James George Deck/Johannes Thomas Rüegg)
My Beloved.
"What is thy Beloved more than another beloved?" (Canticle of Canticles 5,9)
1. Oh, what is thy Beloved?
They oft inquire of me;
and what in my Beloved
so passing fair I see?
Is it the heavenly splendour
in which he shines above?
His riches, and dominions,
that won my heart's best love? PDF - Midi
2. Oh no ! 't is not his glories;
he's worthy of them all!
'T is not the throne and sceptre
before which angels fall!
I view with heart exulting
each crown his head adorns;
but, oh, he looks most lovely,
w e a r i n g h i s c r o w n o f t h o r n s .
3. I'm glad to see his raiment
than snow more spotless white,
refulgent with its brightness,
more dazzling than the light;
but more surpassing lovely
his form appears to me,
when, stripped, and scourged, and bleeding,
h e h u n g u p o n a t r e e .
4. With warmest adoration
I see him on the throne,
and join the loud hosannas
that his high virtues own;
but, oh, most blessèd Jesus,
I must confess to thee,
more than the throne of glory
I l o v e t h a t s a c r e d t r e e .
5. I joy to see the diadems
upon thy royal brow;
the state, and power, and majesty
in which thou sittest now:
but 't is t h y s e l f , Lord Jesus,
makes heaven seem heaven to me, –
t h y s e l f , as first I knew thee,
u p l i f t e d o n t h e t r e e.
6. Though higher than the highest,
most mighty King thou art,
thy grace, and not thy greatness,
first touched my rebel heart:
thy sword, it might have slain me,
thine arrows drunk my blood;
but 't was t h y c r o s s subdued me,
and won my heart to God.
7. Thy sceptre rules creation,
thy w o u n d e d h a n d rules me;
all bow before thy footstool,
I but the n a i l - p r i n t s see:
aloud they sound thy titles,
thou Lord of lords most high;
one thrilling thought absorbs me –
t h i s L o r d f o r M E d i d d i e !
8. Oh, this is my Beloved,
there's none so fair as he;
the chief among ten thousand,
he's all in all to me:
my heart it breaks with longing
to dwell with him above,
who wooed me first, and won me
b y h i s s w e e t d y i n g l o v e .
James George Deck, Hymns and Sacred Poems, 1906, 64-66.