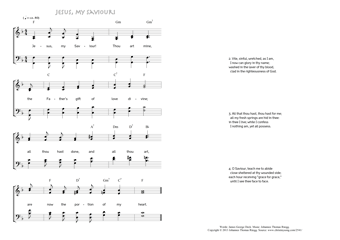 Christ My Song - 930
Jesus, my Saviour! Thou art mine - Jesus, my Saviour!
(James George Deck/Johannes Thomas Rüegg)
Jesus, my Saviour!
1. Jesus, my Saviour! Thou art mine,
the Father's gift of love divine;
all thou hast done, and all thou art,
are now the portion of my heart. PDF - Midi
2. Vile, sinful, wretched, as I am,
I now can glory in thy name;
washed in the laver of thy blood,
clad in the righteousness of God.
3. All that thou hast, thou hast for me;
all my fresh springs are hid in thee:
in thee I live; while I confess
I nothing am, yet all possess.
4. O Saviour, teach me to abide
close sheltered at thy wounded side;
each hour receiving "grace for grace,"
until I see thee face to face.
James George Deck, Hymns and Sacred Poems, 1906, 71.