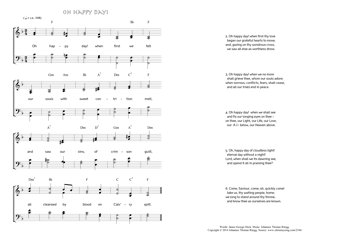 Christ My Song - 935
Oh happy day! when first we felt - Oh happy day!
(James George Deck/Johannes Thomas Rüegg)
Oh happy day!
1. Oh happy day! when first we felt
our souls with sweet contrition melt,
and saw our sins, of crimson guilt,
all cleansed by blood on Calv'ry spilt. PDF - Midi
2. Oh happy day! when first thy love
began our grateful hearts to move;
and, gazing on thy wondrous cross,
we saw all else as worthless dross.
3. Oh happy day! when we no more
shall grieve thee, whom our souls adore;
when sorrows, conflicts, fears, shall cease,
and all our trials end in peace.
4. Oh happy day! when we shall see
and fix our longing eyes on thee –
on thee, our Light, our Life, our Love,
our A l l below, our Heaven above.
5. Oh, happy day of cloudless light!
eternal day without a night!
Lord, when shall we its dawning see,
and spend it all in praising thee?
6. Come, Saviour, come; oh, quickly come!
take us, thy waiting people, home;
we long to stand around thy throne,
and know thee as ourselves are known.
James George Deck, Hymns and Sacred Poems, 1906, 60-61.