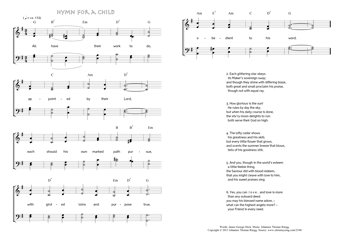 Christ My Song - 937
All have their work to do - Hymn for a child
(James George Deck/Johannes Thomas Rüegg)
Hymn for a child.
"What can a little thing like you do for Jesus?" said a Christian friend to my daughter Clara, when quite a little child. She looked up with a bright smile and said, "I can love him."
1. All have their work to do,
appointed by their Lord;
each should his own marked path pursue,
with girded loins and purpose true,
obedient to his word. PDF - Midi
2. Each glittering star obeys
its Maker's sovereign sway;
and though they shine with differing blaze,
both great and small proclaim his praise,
though not with equal ray.
3. How glorious is the sun!
He rules by day the sky;
but when his daily course is done,
the silv'ry moon delights to run:
both serve their God on high.
4. The lofty cedar shows
his greatness and his skill;
but every little flower that grows,
and scents the summer breeze that blows,
tells of his goodness still.
5. And you, though in the world's esteem
a little feeble thing,
the Saviour did with blood redeem,
that you might cleave with love to him,
and his sweet praises sing.
6. Yes, you can l o v e , and love is more
than any outward deed;
you may his blessed name adore, –
what can the highest angels more? –
your Friend in every need.
James George Deck, Hymns and Sacred Poems, 1906, 100-101.