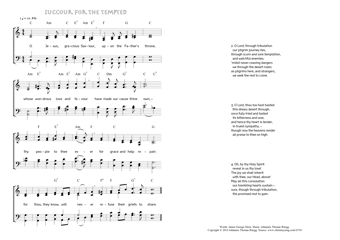 Christ My Song - 943
O Jesus, gracious Saviour - Succour for the tempted
(James George Deck/Johannes Thomas Rüegg)
Succour for the tempted.
"For in that he himself hath suffered being tempted, he is able to succour them that are tempted." (Hebrews 2,18)
1. O Jesus, gracious Saviour,
upon the Father's throne,
whose wondrous love and favour
have made our cause thine own, –
thy people to thee ever
for grace and help repair;
for thou, they know, wilt never
refuse their griefs to share. PDF - Midi
2. O Lord, through tribulation
our pilgrim journey lies,
through scorn and sore temptation,
and watchful enemies;
'midst never-ceasing dangers
we through the desert roam;
as pilgrims here, and strangers,
we seek the rest to come.
3. O Lord, thou too hast hasted
this dreary desert through,
once fully tried and tasted
its bitterness and woe;
and hence thy heart is tender,
in truest sympathy, –
though now the heavens render
all praise to thee on high.
4. Oh, by thy Holy Spirit
reveal in us thy love!
The joy we shall inherit
with thee, our Head, above!
May all this consolation
our trembling hearts sustain –
sure, though through tribulation,
the promised rest to gain.
James George Deck, Hymns and Sacred Poems, 1906, 9-10.