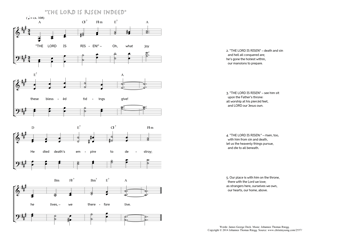 Christ My Song - 946
"THE LORD IS RISEN!" – Oh, what joy - "The Lord is risen indeed" (James George Deck/Johannes Thomas Rüegg)
"The Lord is risen indeed."
Luke 24, 34.
1. "THE LORD IS RISEN!" – Oh, what joy
these blessèd tidings give!
He died death's empire to destroy;
he lives, – we therefore live. PDF - Midi
2. "THE LORD IS RISEN" – death and sin
and hell all conquered are;
he's gone the holiest within,
our mansions to prepare.
3. "THE LORD IS RISEN" – see him sit
upon the Father's throne:
all worship at his piercèd feet,
and LORD our Jesus own.
4. "THE LORD IS RISEN:" – risen, too,
with him from sin and death,
let us the heavenly things pursue,
and die to all beneath.
5. Our place is with him on the throne,
there with the Lord we love;
as strangers here, ourselves we own,
our hearts, our home, above.
James George Deck, Hymns and Sacred Poems, 1906, 41-42.