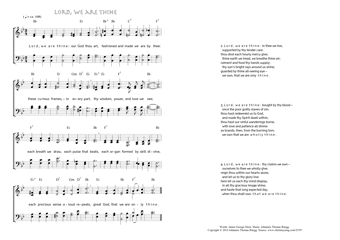 Christ My Song - 948
Lord, we are thine: our God thou art - Lord, we are thine
(James George Deck/Johannes Thomas Rüegg)
Lord, we are thine.
"Ye are not your own; for ye are bought with a price: therefore glorify God in your body, and in your spirit, which are God's. (1 Corinthians 4,19-20)
1. L o r d , w e a r e t h i n e : our God thou art,
fashioned and made we are by thee:
these curious frames, – in every part,
thy wisdom, power, and love we see;
each breath we draw, each pulse that beats,
each organ formed by skill divine,
each precious sense aloud repeats,
great God, that we are only t h i n e . PDF - Midi
2. L o r d , w e a r e t h i n e : in thee we live,
supported by thy tender care:
thou dost each hourly mercy give;
thine earth we tread, we breathe thine air;
raiment and food thy hands supply;
thy sun's bright rays around us shine;
guarded by thine all-seeing eye –
we own, that we are only t h i n e .
3. L o r d , w e a r e t h i n e : bought by thy blood –
once the poor guilty slaves of sin;
thou hast redeemèd us to God,
and made thy Spirit dwell within;
thou hast our sinful wanderings borne,
with love and patience all divine:
as brands, then, from the burning torn,
we own that we are w h o l l y t h i n e .
4. L o r d , w e a r e t h i n e : thy claims we own –
ourselves to thee we wholly give;
reign thou within our hearts alone,
and let us to thy glory live:
here let us each thy mind display,
in all thy gracious image shine;
and haste that long expected day,
when thou shalt own t h a t w e a r e t h i n e .
James George Deck, Hymns and Sacred Poems, 1906, 14-15.