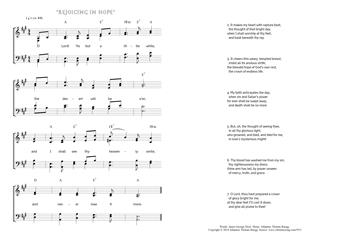 Christ My Song - 953
O Lord! 'tis but a little while - "Rejoicing in hope"
(James George Deck/Johannes Thomas Rüegg)
"Rejoicing in hope."
Romans 12,12.
1. O Lord! 'tis but a little while,
the desert will be o'er;
and I shall see thy heavenly smile,
and never lose it more. PDF - Midi
2. It makes my heart with rapture beat,
the thought of that bright day,
when I shall worship at thy feet,
and bask beneath thy ray.
3. It cheers this weary, tempted breast,
midst all its anxious strife;
the blessèd hope of God's own rest,
the crown of endless life.
4. My faith anticipates the day,
when sin and Satan's power
for ever shall be swept away,
and death shall be no more.
5. But, oh, the thought of seeing thee,
in all thy glorious light,
who groaned, and bled, and died for me,
in love's mysterious might!
6. Thy blood has washed me from my sin,
thy righteousness my dress;
thine arm has led, by power unseen
of mercy, truth, and grace.
7. O Lord, thou hast prepared a crown
of glory bright for me;
at thy dear feet I'll cast it down,
and give all praise to thee!
James George Deck, Hymns and Sacred Poems, 1906, 23.