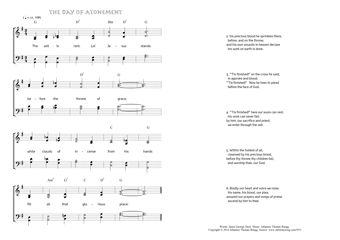 Christ My Song - 955
The veil is rent. Lo! Jesus stands - The Day of Atonement
(James George Deck/Johannes Thomas Rüegg)
The Day of Atonement.
"And he shall take a censer full of burning coals of
fire off the altar before the Lord, and his hands full
of sweet incense beaten small, and bring it within the
veil: and he shall put the incense upon the fire before
the Lord, that the cloud of the incense may cover the
mercy-seat that is upon the testimony, that he die not:
and he shall take of the blood of the bullock, and
sprinkle it with his finger upon the mercy-seat eastward;
and before the mercy-seat shall he sprinkle of the blood
with his finger seven times." (Leviticus 16,12-14)
1. The veil is rent. Lo! Jesus stands
before the throne of grace,
while clouds of incense from his hands
fill all that glorious place: PDF - Midi
2. his precious blood he sprinkles there,
before, and on the throne;
and his own wounds in heaven declare
his work on earth is done.
3. "'Tis finished!" on the cross he said,
in agonies and blood;
"'Tis finished!" Now he lives to plead
before the face of God.
4. "'Tis finished!" here our souls can rest;
his work can never fail:
by him, our sacrifice and priest,
we enter through the veil.
5. Within the holiest of all,
cleansed by his precious blood,
before thy throne thy children fall,
and worship thee, our God.
6. Boldly our heart and voice we raise,
his name, his blood, our plea;
assured our prayers and songs of praise
ascend by him to thee.
James George Deck, Hymns and Sacred Poems, 1906, 29-30.