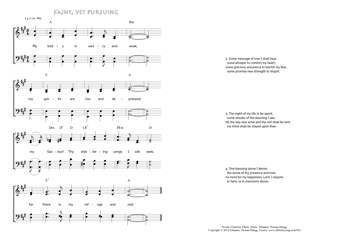 Christ My Song - 961
My body is weary and weak - Faint, yet Pursuing
(Charlotte Elliott/Johannes Thomas Rüegg)
Faint, yet Pursuing.
1. My body is weary and weak,
my spirits are low and depressed;
my Saviour! Thy sheltering wings I will seek,
for there is my refuge and rest. PDF - Midi
2. Some message of love I shall hear,
some whisper to comfort my heart;
some gracious assurance to banish my fear,
some promise new strength to impart.
3. The night of my life is far spent,
some streaks of the dawning I see;
till the day-star arise and the veil shall be rent,
my mind shall be stayed upon thee.
4. One blessing alone I desire,
the sense of thy presence and love;
no more for my happiness, Lord, I require,
or here, or in mansions above.
Charlotte Elliott, Selections from the Poems of Charlotte Elliott, 170-171.