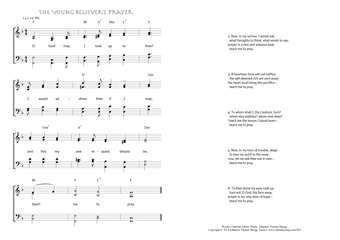 Christ My Song - 963
O God! may I look up to thee? - The Young Believer's Prayer
(Charlotte Elliott/Johannes Thomas Rüegg)
The Young Believer's Prayer.
"Seek ye the Lord while he may be found, call ye upon him while he is near." (Isaiah 55,6)
1. O God! may I look up to thee?
I would address thee if I may;
and this my one request should be,
teach me to pray. PDF - Midi
2. Now, in my sorrow, I would ask,
what thoughts to think, what words to say;
prayer is a new and arduous task;
teach me to pray.
3. A heartless form will not suffice,
the self-deemed rich are sent away;
the heart must bring the sacrifice –
teach me to pray.
4. To whom shall I, thy creature, turn?
whom else address? whom else obey?
Teach me the lesson I would learn –
teach me to pray.
5. Now, in my hour of trouble, deign
to bow my spirit to thy sway;
now, let me ask thee not in vain –
teach me to pray.
6. To thee alone my eyes look up,
turn not, O God, thy face away,
prayer is my only door of hope –
teach me to pray.
Charlotte Elliott, Selections from the Poems of Charlotte Elliott, 145-146.