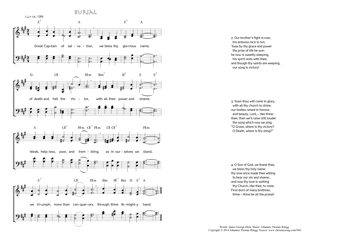 Christ My Song - 968
Great Captain of salvation - Burial (James George Deck/
Johannes Thomas Rüegg)
Burial.
1. Great Captain of salvation,
we bless thy glorious name;
of death and hell the Victor,
with all their power and shame.
Weak, helpless, poor, and trembling,
as in ourselves we stand,
we triumph, more than conquerors,
through thine Almighty hand. PDF - Midi
2. Our brother's fight is over,
his arduous race is run;
'twas by thy grace and power
the prize of life he won:
he now is sweetly sleeping,
his spirit rests with thee;
and though thy saints are weeping,
our song is victory!
3. Soon thou wilt come in glory,
with all thy church to shine;
our bodies raised in honour,
and beauty, Lord, – like thine:
then, then we'll raise still louder
the song which now we sing,
"O Grave, where is thy victory?
O Death, where is thy sting?"
4. O Son of God, we thank thee,
we bless thy holy name;
thy love once made thee willing
to bear our sin and shame;
and now thy love is waiting
thy Church, like thee, to raise:
First-born of many brethren,
thine – thine be all the praise!
James George Deck, Hymns and Sacred Poems, 1906, 61-62.