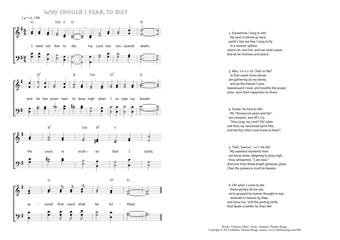 Christ My Song - 980
I need not fear to die - Why should I Fear to Die?
(Charlotte Elliott/Johannes Thomas Rüegg)
Why should I Fear to Die?
1. I need not fear to die,
my Lord has conquered death;
and he has promised to draw nigh
when I resign my breath.
His word is truth – on that I build,
assured that word shall be fulfilled. PDF - Midi
2. Sometimes I long to die!
My nest is stirred up here;
earth's ties are few; I long to fly
to a serener sphere:
where sin, and toil, and war shall cease;
and all be holiness and peace.
3. Why should I fear to die?
In that sweet home above
are gathering all my family,
and all the friends I love;
heavenward I look, and breathe the prayer,
soon, soon their happiness to share.
4. Surely 'tis time to die!
My "threescore years and ten"
are overpast, and oft I cry,
"How long, my Lord? Oh! when
wilt thou my ransomed spirit free,
and bid thy child come home to thee?"
5. Then, Saviour, let me die!
My sweetest moments here
are those when, deigning to draw nigh,
thou whisperest, "I am near."
And e'en from these bright glimpses given
I feel thy presence must be heaven.
6. Oh! when I come to die,
these glories let me see,
ne'er grasped by human thought or eye,
reserved in heaven by thee;
and show me, 'mid the parting strife,
that death is better far than life!
Charlotte Elliott, Selections from the Poems of Charlotte Elliott, 193-194.