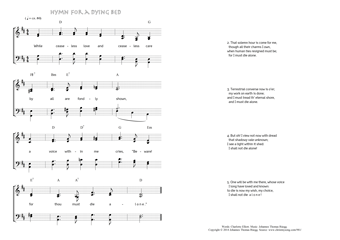 Christ My Song - 981
While ceaseless love and ceaseless care - Hymn for a Dying Bed
(Charlotte Elliott/Johannes Thomas Rüegg)
Hymn for a Dying Bed.
1. While ceaseless love and ceaseless care
by all are fondly shown,
a voice within me cries, "Beware!
for thou must die alone." PDF - Midi
2. That solemn hour is come for me,
though all their charms I own,
when human ties resigned must be;
for I must die alone.
3. Terrestrial converse now is o'er;
my work on earth is done;
and I must tread th' eternal shore,
and I must die alone.
4. But oh! I view not now with dread
that shadowy vale unknown;
I see a light within it shed:
I shall not die alone!
5. One will be with me there, whose voice
I long have loved and known:
to die is now my wish, my choice,
I shall not die alone!
Charlotte Elliott, Selections from the Poems of Charlotte Elliott, 208.