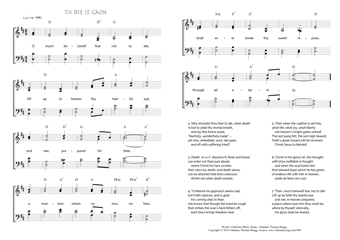 Christ My Song - 984
O much beloved! fear not to die - To Die is Gain
(Charlotte Elliott/Johannes Thomas Rüegg)
To Die is Gain.
Philippians 1,21.
1. O much beloved! fear not to die,
lift up to heaven thy tearful eye;
and see, prepared for thee,
a mansion where no sins, no foes,
shall ever break thy sweet repose,
through all eternity. PDF - Midi
2. Why shouldst thou fear to die, when death
is but to yield thy mortal breath,
and lay this frame aside,
"fearfully, wonderfully made" –
yet now, enfeebled, worn, decayed,
and oft with suffering tried?
3. Death m u s t dissolve it; flesh and blood
can enter not that pure abode
where Christ his face unveils:
then since by death, and death alone,
can be attained that bliss unknown,
shrink not when death assails.
4. To Nature his approach seems sad,
but Faith rejoices, and is glad
his coming step to hear:
she knows that though the hand be rough
that strikes the soul's hard fetters off,
each blow brings freedom near.
5. Then when the captive is set free,
what life, what joy, what liberty
will heaven's bright gates unfold!
The last pang felt, the last sigh heaved,
Faith's great reward will be received,
Christ Jesus to behold!
6. Christ in his glory! oh, the thought
with bliss ineffable is fraught;
and when the soul holds fast
that blessed hope which he has given,
of endless life with him in heaven,
aside all fears are cast.
7. Then, much beloved! fear not to die!
Lift up by faith thy tearful eye;
and see, in heaven prepared,
a place where near him thou shalt be,
where by thyself, eternally,
his glory shall be shared.
Charlotte Elliott, Selections from the Poems of Charlotte Elliott, 221-223.