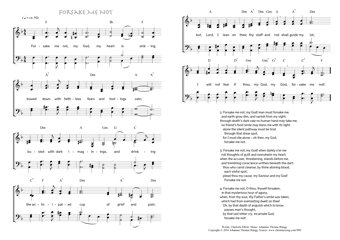 Christ My Song - 990
Forsake me not, my God, my heart is sinking - Forsake Me Not (Charlotte Elliott/Johannes Thomas Rüegg)
Forsake Me Not.
"Be not thou far from me, O Lord;
O my strength, haste thee to help me."
(Psalm 22,19)
1. Forsake me not, my God, my heart is sinking,
bowed down with faithless fears and bodings vain;
busied with dark imaginings, and drinking
the anticipated cup of grief and pain;
but, Lord, I lean on thee; thy staff and rod
shall guide my lot,
I will not fear if thou, my God, my God,
forsake me not! PDF - Midi
2. Forsake me not, my God! man must forsake me,
and earth grow dim, and vanish from my sight;
through death's dark vale no human hand may take me,
no friend's fond smile may bless me with its light:
alone the silent pathway must be trod
through that drear spot,
for I must die alone – oh then, my God,
forsake me not.
3. Forsake me not, my God! when darkly o'er me
roll thoughts of guilt and overwhelm my heart;
when the accuser, threatening, stands before me,
and trembling conscience writhes beneath the dart;
thou who canst cleanse, by thine atoning blood,
each sinful spot,
plead thou my cause, my Saviour and my God!
Forsake me not.
4. Forsake me not, O thou, thyself forsaken,
in that mysterious hour of agony,
when, from thy soul, thy Father's smile was taken,
which had from everlasting dwelt on thee!
Oh, by that depth of anguish which to know
passes man's thought,
by that last bitter cry, incarnate God,
forsake me not!
Charlotte Elliott, Selections from the Poems of Charlotte Elliott, 229-230.