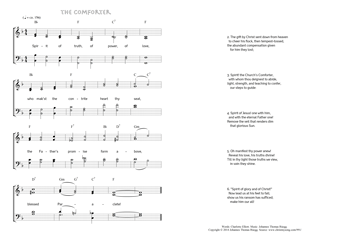 Christ My Song - 991
Spirit of truth, of power, of love - The Comforter
(Charlotte Elliott/Johannes Thomas Rüegg)
The Comforter.
1. Spirit of truth, of power, of love,
who mak'st the contrite heart thy seat,
the Father's promise form above,
blessed Paraclete! PDF - Midi
2. The gift by Christ sent down from heaven
to cheer his flock, then tempest-tossed,
the abundant compensation given
for him they lost;
3. Spirit! the Church's Comforter,
with whom thou deignest to abide,
light, strength, and teaching to confer,
our steps to guide:
4. Spirit of Jesus! one with him,
and with the eternal Father one!
Remove the veil that renders dim
that glorious Sun.
5. Oh manifest thy power anew!
Reveal his love, his truths divine!
Till in thy light those truths we view,
in vain they shine.
6. "Spirit of glory and of Christ!"
Now lead us at his feet to fall;
show us his ransom has sufficed;
make him our all!
Charlotte Elliott, Selections from the Poems of Charlotte Elliott, 60-61.