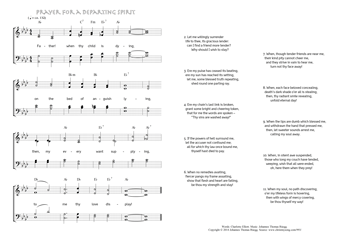 Christ My Song - 993
Father! when thy child is dying - Prayer for a Departing Spirit (Charlotte Elliott/Johannes Thomas Rüegg)
Prayer for a Departing Spirit.
1. Father! when thy child is dying,
on the bed of anguish lying,
then, my every want supplying,
to me thy love display! PDF - Midi
2. Let me willingly surrender
life to thee, its gracious lender:
can I find a friend more tender?
Why should I wish to stay?
3. Ere my pulse has ceased its beating,
ere my sun has reached its setting,
let me, some blessed truth repeating,
shed round one parting ray.
4. Ere my chain's last link is broken,
grant some bright and cheering token,
that for me the words are spoken –
"Thy sins are washed away!"
5. If the powers of hell surround me,
let the accuser not confound me;
all for which thy law once bound me,
thyself hast died to pay.
6. When no remedies availing,
fiercer pangs my frame assailing,
show that flesh and heart are failing,
be thou my strength and stay!
7. When, though tender friends are near me,
their kind pity cannot cheer me,
and they strive in vain to hear me,
turn not thy face away!
8. When, each face beloved concealing,
death's dark shade o'er all is stealing,
then, thy radiant smile revealing,
unfold eternal day!
9. When the lips are dumb which blessed me,
and withdrawn the hand that pressed me,
then, let sweeter sounds arrest me,
calling my soul away.
10. When, in silent awe suspended,
those who long my couch have tended,
weeping, wish that all were ended,
oh, here them when they prey!
11. When my soul, no path discovering,
o'er my lifeless form is hovering,
then with wings of mercy covering,
be thou thyself my way!
Charlotte Elliott, Selections from the Poems of Charlotte Elliott, 209-210.