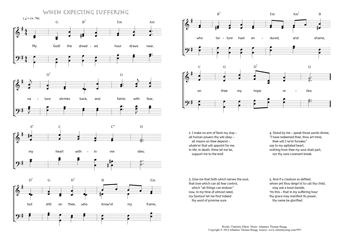 Christ My Song - 995
My God! the dreaded hour draws near - When Expecting Suffering (Charlotte Elliott/Johannes Thomas Rüegg)
When Expecting Suffering.
"Call upon me in the day of trouble, I will deliver thee,
and thou shalt glorify me." (Psalm 50,15)
1. My God! the dreaded hour draws near,
nature shrinks back, and faints with fear,
my heart within me dies;
but still on thee, who know'st my frame,
who torture hast endured, and shame,
on thee my hope relies. PDF - Midi
2. I make no arm of flesh my stay –
all human powers thy will obey –
all means on thee depend –
whate'er that will appoint for me,
in life, in death, thine let me be,
support me to the end!
3. Give me that faith which nerves the soul,
that love which can all fear control,
which "all things can endure;"
now, in my time of utmost need,
my Saviour! let me find indeed
thy word of promise sure.
4. Stand by me – speak those words divine,
"I have redeemed thee, thou art mine,
thee will I ne'er forsake;"
say to my agitated heart,
nothing from thee my soul shall part,
nor thy sure covenant break.
5. And if a creature so defiled,
whom yet thou deign'st to call thy child,
may ask a boon beside,
'tis this – that in my suffering hour
thy grace may manifest its power,
thy name be glorified.
Charlotte Elliott, Selections from the Poems of Charlotte Elliott, 236-237.