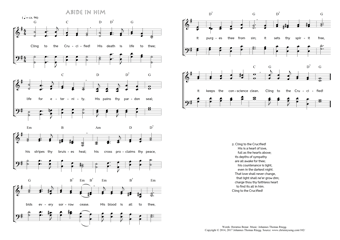 Christ My Song - 102
Cling to the Crucified! - Abide in him
(Horatius Bonar/Johannes Thomas Rüegg)
Abide in him.
"Tecum volo vulnerari
te libenter amplexari
in cruce desidero." (Old Hymn)
1. Cling to the Crucified!
His death is life to thee;
life for eternity.
His pains thy pardon seal;
his stripes thy bruises heal;
his cross proclaims thy peace,
bids every sorrow cease.
His blood is all to thee,
it purges thee from sin;
it sets thy spirit free,
it keeps the conscience clean.
Cling to the Crucified! PDF - Midi
2. Cling to the Crucified!
His is a heart of love,
full as the hearts above;
its depths of sympathy
are all awake for thee;
his countenance is light,
even in the darkest night.
That love shall never change,
that light shall ne'er grow dim;
charge thou thy faithless heart
to find its all in him.
Cling to the Crucified!
Horatius Bonar, Hymns of Faith and Hope I, 1878, 98-99.