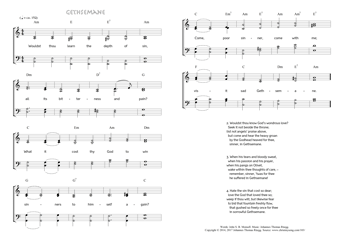 Christ My Song - 103
Wouldst thou learn the depth of sin - Gethsemane
(John S. B. Monsell/Johannes Thomas Rüegg)
Gethsemane.
1. Wouldst thou learn the depth of sin,
all its bitterness and pain?
What it cost thy God to win
sinners to himself again?
Come, poor sinner, come with me;
visit sad Gethsemane. PDF - Midi
2. Wouldst thou know God's wondrous love?
Seek it not beside the throne;
list not angels' praise above,
but come and hear the heavy groan
by the Godhead heaved for thee,
sinner, in Gethsemane.
3. When his tears and bloody sweat,
when his passion and his prayer,
when his pangs on Olivet,
wake within thee thoughts of care, –
remember, sinner, 'twas for thee
he suffered in Gethsemane!
4. Hate the sin that cost so dear;
love the God that loved thee so;
weep if thou wilt, but likewise fear
to bid that fountain freshly flow,
that gushed so freely once for thee
in sorrowful Gethsemane.
John S. B. Monsell, in: Philip Schaff: Christ in Song, 1870, 168-169.