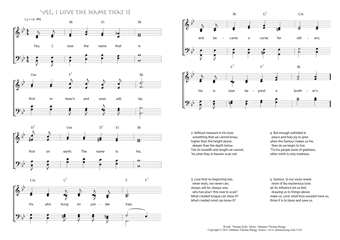 Christ My Song - 1124
Yes, I love the name that is
(Thomas Kelly/Johannes Thomas Rüegg)
Yes, I love the name that is.
"The desire of our soul is to thy name." (Isaiah 26,8)
1. Yes, I love the name that is
first in heav'n and soon will be,
first on earth. The name is his,
his who hung on yonder tree,
and became a curse for others;
his is love beyond a brother's. PDF - Midi
2. Without measure is his love;
something that we cannot know;
higher than the height above,
deeper than the depth below.
Tell its breadth and length we cannot,
'tis what they in heaven scan not.
3. Love that no beginning has,
never ends, nor never can;
always will be, always was,
who has pow'r this love to scan?
What created tongue can show it?
What created mind can know it?
4. But enough unfolded is
peace and holy joy to give;
when the Saviour makes us his,
then do we begin to live.
'Tis his people taste of gladness,
other mirth is only madness.
5. Saviour, to our souls reveal
more of thy mysterious love;
all its influence let us feel,
drawing us to things above;
make us, Lord, what thou wouldst have us,
thine it is to bless and save us.
Thomas Kelly, Hymns on various passages of Scripture, ca. 1853, Hymn 176.