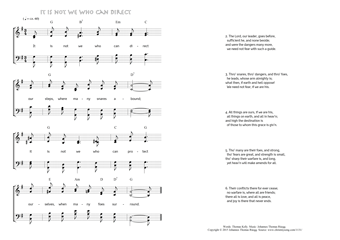 Christ My Song - 1131
It is not we who can direct
(Thomas Kelly/Johannes Thomas Rüegg)
It is not we who can direct.
"It is not in man that walketh to direct his steps."
(Jeremiah 10,23)
1. It is not we who can direct
our steps, where many snares abound;
it is not we who can protect
ourselves, when many foes surround. PDF - Midi
2. The Lord, our leader, goes before,
sufficient he, and none beside;
and were the dangers many more,
we need not fear with such a guide.
3. Thro' snares, thro' dangers, and thro' foes,
he leads, whose arm almighty is;
what then, if earth and hell oppose!
We need not fear, if we are his.
4. All things are ours, if we are his,
all things on earth, and all in heav'n;
and high the destination is
of those to whom this grace is giv'n.
5. Tho' many are their foes, and strong,
tho' fears are great, and strength is small,
tho' sharp their warfare is, and long,
yet heav'n will make amends for all.
6. Their conflicts there for ever cease;
no warfare is, where all are friends;
there all is love, and all is peace,
and joy is there that never ends.
Thomas Kelly, Hymns on various passages of Scripture, ca. 1853, Hymn 302.