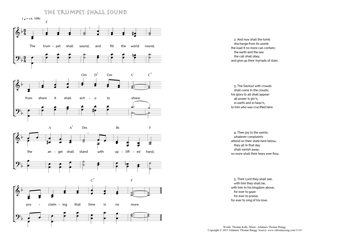 Christ My Song - 1133
The trumpet shall sound
(Thomas Kelly/Johannes Thomas Rüegg)
The trumpet shall sound.
"The trumpet shall sound." (1 Corinthians 15,52)
1. The trumpet shall sound,
and fill the world round;
from shore it shall echo to shore;
the angel shall stand
with uplifted hand,
proclaiming that time is no more. PDF - Midi
2. And now shall the tomb
discharge from its womb
the load it no more can contain;
the earth and the sea
the call shall obey,
and give up their myriads of slain.
3. The Saviour with crowds
shall come in the clouds;
his glory to all shall appear:
all power is giv'n,
in earth and in heav'n,
to him who was crucified here.
4. Then joy to the saints;
whatever complaints
attend on their state here below,
they all in that day
shall vanish away;
no more shall their tears ever flow.
5. Their Lord they shall see;
with him they shall be;
with him in his kingdom above;
for ever to gaze:
for ever to praise;
for ever to sing of his love.
Thomas Kelly, Hymns on various passages of Scripture, ca. 1853, Hymn 63.