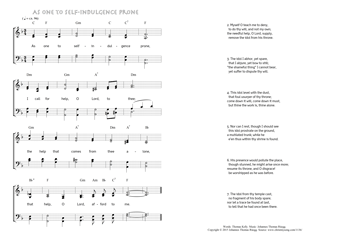 Christ My Song - 1136
As one to self-indulgence prone
(Thomas Kelly/Johannes Thomas Rüegg)
As one to self-indulgence prone.
"Let him deny himself." (Matthew 16,24)
1. As one to self-indulgence prone,
I call for help, O Lord, to thee;
the help that comes from thee alone,
that help, O Lord, afford to me. PDF - Midi
2. Myself O teach me to deny,
to do thy will, and not my own;
the needful help, O Lord, supply,
remove the idol from his throne.
3. The idol I abhor, yet spare,
that I abjure, yet bow to still;
"the shameful thing" I cannot bear,
yet suffer to dispute thy will.
4. This idol level with the dust,
that foul usurper of thy throne;
come down it will, come down it must,
but thine the work is, thine alone.
5. Nor can I rest, though I should see
this idol prostrate on the ground,
a mutilated trunk; while he
e'en thus within thy shrine is found.
6. His presence would pollute the place,
though stunned, he might arise once more;
resume its throne, and O disgrace!
be worshipped as he was before.
7. The idol from thy temple cast,
no fragment of his body spare;
nor let a trace be found at last,
to tell that he had once been there.
Thomas Kelly, Hymns on various passages of Scripture, ca. 1853, Hymn 180.