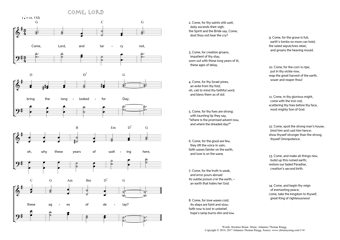 Christ My Song - 114
Come, Lord, and tarry not - Come, Lord
(Horatius Bonar/Johannes Thomas Rüegg)
Come, Lord.
"Senuit mundus." (Augustine)
1. Come, Lord, and tarry not,
bring the long-looked-for Day;
oh, why these years of waiting here,
these ages of delay? PDF - Midi
2. Come, for thy saints still wait,
daily ascends their sigh;
the Spirit and the Bride say, Come;
dost thou not hear the cry?
3. Come, for creation groans,
impatient of thy stay,
worn out with these long years of ill,
these ages of delay.
4. Come, for thy Israel pines,
an exile from thy fold;
oh, call to mind thy faithful word,
and bless them as of old.
5. Come, for thy foes are strong;
with taunting lip they say,
"Where is the promised advent now,
and where the dreaded day?"
6. Come, for the good are few,
they lift the voice in vain;
faith waxes fainter on the earth,
and love is on the wane.
7. Come, for the truth is weak,
and error pours abroad
its subtle poison o'er the earth, –
an earth that hates her God.
8. Come, for love waxes cold,
its steps are faint and slow;
faith now is lost in unbelief,
hope's lamp burns dim and low.
9. Come, for the grave is full,
earth's tombs no more can hold;
the sated sepulchres rebel,
and groans the heaving mould.
10. Come, for the corn is ripe;
put in thy sickle now,
reap the great harvest of the earth,
sower and reaper thou!
11. Come, in thy glorious might,
come with the iron rod,
scattering thy foes before thy face,
most mighty Son of God.
12. Come, spoil the strong man's house,
bind him and cast him hence;
show thyself stronger than the strong,
thyself Omnipotence.
13. Come, and make all things new,
build up this ruined earth;
restore our faded Paradise,
creation's second birth.
14. Come, and begin thy reign
of everlasting peace;
come, take the kingdom to thyself,
great King of righteousness!
Horatius Bonar, Hymns of Faith and Hope I, 1878, 171-173.