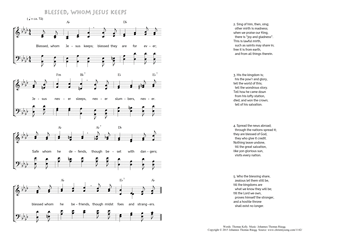 Christ My Song - 1142
Blessed, whom Jesus keeps
(Thomas Kelly/Johannes Thomas Rüegg)
Blessed, whom Jesus keeps.
"The Lord is thy keeper." (Psalm 121,5)
1. Blessed, whom Jesus keeps;
blessed they are for ever;
Jesus never sleeps,
never slumbers, never.
Safe whom he defends,
though beset with dangers;
blessed whom he befriends,
though midst foes and strangers. PDF - Midi
2. Sing of him, then, sing;
other mirth is madness;
when we praise our King,
there is "joy and gladness".
This is lawful mirth,
such as saints may share in;
free it is from earth,
and from all things therein.
3. His the kingdom is;
his the pow'r and glory,
tell the world of this;
tell the wondrous story.
Tell how he came down
from his lofty station,
died, and won the crown;
tell of his salvation.
4. Spread the news abroad;
through the nations spread it;
they are blessed of God,
they who give it credit.
Nothing leave undone,
till the great salvation,
like yon glorious sun,
visits every nation.
5. Who the blessing share,
zealous let them still be,
till the kingdoms are
what we know they will be;
till the Lord we own,
proves himself the stronger,
and a hostile throne
shall exist no longer.
Thomas Kelly, Hymns on various passages of Scripture, ca. 1853, Hymn 519.