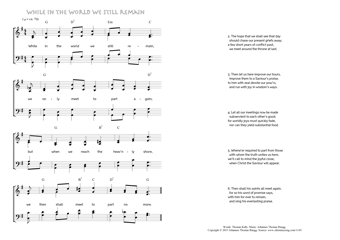 Christ My Song - 1145
While in the world we still remain
(Thomas Kelly/Johannes Thomas Rüegg)
While in the world we still remain.
"Exhorting one another, and so much the more as ye see the day approaching." (Hebrews 10,25)
1. While in the world we still remain,
we only meet to part again;
but when we reach the heav'nly shore,
we then shall meet to part no more. PDF - Midi
2. The hope that we shall see that day
should chase our present griefs away;
a few short years of conflict past,
we meet around the throne at last.
3. Then let us here improve our hours,
improve them to a Saviour's praise,
to him with zeal devote our pow'rs,
and run with joy in wisdom's ways.
4. Let all our meetings now be made
subservient to each other's good;
for worldly joys must quickly fade,
nor can they yield substantial food.
5. Whene'er required to part from those
with whom the truth unites us here,
we'll call to mind the joyful close,
when Christ the Saviour will appear.
6. The shall his saints all meet again,
for so his word of promise says,
with him for ever to remain,
and sing his everlasting praise.
Thomas Kelly, Hymns on various passages of Scripture, ca. 1853, Hymn 316.