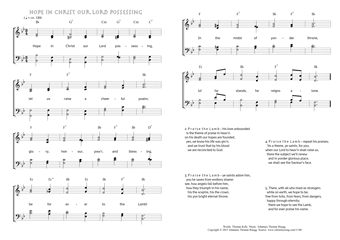 Christ My Song - 1148
Hope in Christ our Lord possessing
(Thomas Kelly/Johannes Thomas Rüegg)
Hope in Christ our Lord possessing.
"In the midst of the throne ... stood a Lamb." (Revelation 5,6)
1. Hope in Christ our Lord possessing,
let us raise a cheerful psalm;
glory, honour, pow'r, and blessing,
be for ever to the Lamb!
In the midst of yonder throne,
lo! he stands, he reigns alone. PDF - Midi
2. Praise the Lamb – his love unbounded
is the theme of praise in heav'n:
on his death our hopes are founded,
yes, we know his life was giv'n;
and we trust that by his blood
we are reconciled to God.
3. Praise the Lamb – ye saints adore him,
you he saves from endless shame:
see, how angels fall before him,
how they triumph in his name;
his the sceptre, his the crown,
his yon bright eternal throne.
4. Praise the Lamb – repeat his praises;
'tis a theme, ye saints, for you;
when our Lord to heav'n shall raise us,
there the subject we'll renew:
and in yonder glorious place,
we shall see the Saviour's face.
5. There, with all who lived as strangers
while on earth, we hope to be;
free from toils, from fears, from dangers,
happy through eternity;
there we hope to see the Lamb,
and for ever praise his name.
Thomas Kelly, Hymns on various passages of Scripture, ca. 1853, Hymn 198.