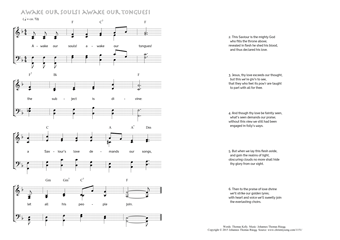 Christ My Song - 1151
Awake our souls! awake our tongues!
(Thomas Kelly/Johannes Thomas Rüegg)
Awake our souls! awake our tongues!
"O God, my heart is fixed; I will sing and give praise, even with my glory." (Psalm 108,1)
1. Awake our souls! awake our tongues!
the subject is divine:
a Saviour's love demands our songs,
let all his people join. PDF - Midi
2. This Saviour is the mighty God
who fills the throne above;
revealed in flesh he shed his blood,
and thus declared his love.
3. Jesus, thy love exceeds our thought,
but this we're giv'n to see,
that they who feel its pow'r are taught
to part with all for thee.
4. And though thy love be faintly seen,
what's seen demands our praise;
without this view we still had been
engaged in folly's ways.
5. But when we lay this flesh aside,
and gain the realms of light,
obscuring clouds no more shall hide
thy glory from our sight.
6. Then to the praise of love divine
we'll strike our golden lyres;
with heart and voice we'll sweetly join
the everlasting choirs.
Thomas Kelly, Hymns on various passages of Scripture, ca. 1853, Hymn 200.