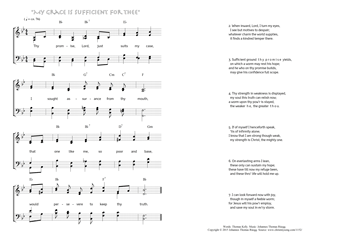 Christ My Song - 1152
Thy promise, Lord, just suits my case - "My Grace is Sufficient for thee" (Thomas Kelly/Johannes Thomas Rüegg)
"My Grace is Sufficient for thee."
"My grace is sufficient for thee; for my strength is made perfect in weakness." (2 Corinthians 12,9)
1. Thy promise, Lord, just suits my case,
I sought assurance from thy mouth,
that one like me, so poor and base,
would persevere to keep thy truth. PDF - Midi
2. When inward, Lord, I turn my eyes,
I see but motives to despair;
whatever charm the world supplies,
it finds a kindred temper there.
3. Sufficient ground thy promise yields,
on which a worm may rest his hope;
and he who on thy promise builds,
may give his confidence full scope.
4. Thy strength in weakness is displayed,
my soul this truth can relish now;
a worm upon thy pow'r is stayed,
the weaker he, the greater thou.
5. If of myself I henceforth speak,
'tis of infirmity alone;
I know that I am strong though weak,
my strength is Christ, the mighty one.
6. On everlasting arms I lean,
these only can sustain my hope;
these have till now my refuge been,
and these thro' life will hold me up.
7. I can look forward now with joy,
though in myself a feeble worm;
for Jesus will his pow'r employ,
and save my soul in ev'ry storm.
Thomas Kelly, Hymns on various passages of Scripture, ca. 1853, Hymn 303. Title added.