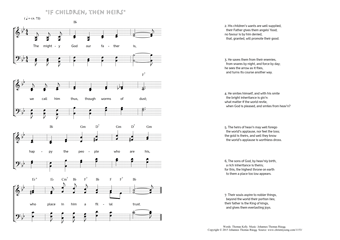 Christ My Song - 1153
The mighty God our father is - "If Children, then Heirs"
(Thomas Kelly/Johannes Thomas Rüegg)
"If Children, then Heirs."
"And if children, then heirs." (Romans 8,17)
1. The mighty God our father is,
we call him thus, though worms of dust;
happy the people who are his,
who place in him a filial trust. PDF - Midi
2. His children's wants are well supplied,
their Father gives them angels' food;
no favour is by him denied,
that, granted, will promote their good.
3. He saves them from their enemies,
from snares by night, and force by day;
he sees the arrow as it flies,
and turns its course another way.
4. He smiles himself, and with his smile
the bright inheritance is giv'n:
what matter if the world revile,
when God is pleased, and smiles from heav'n?
5. The heirs of heav'n may well forego
the world's applause, nor feel the loss;
the gold is theirs, and well they know
the world's applause is worthless dross.
6, The sons of God, by heav'nly birth,
a rich inheritance is theirs;
for this, the highest throne on earth
to them a place too low appears.
7. Their souls aspire to nobler things,
beyond the world their portion lies;
their father is the King of kings,
and gives them everlasting joys.
Thomas Kelly, Hymns on various passages of Scripture, ca. 1853, Hymn 304. Title added.