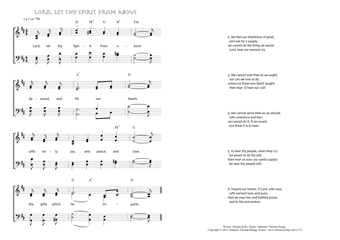 Christ My Song - 1155
Lord, let thy Spirit from above
(Thomas Kelly/Johannes Thomas Rüegg)
Lord, let thy Spirit from above.
"The fruit of the Spirit is love." (Galatians 5,22)
1. Lord, let thy Spirit from above
descend, and fill our hearts
with holy joy, and peace, and love,
the gifts which he imparts. PDF - Midi
2. We feel our emptiness of good,
and ask for a supply;
we cannot do the thing we would:
Lord, hear our earnest cry.
3. We cannot love thee as we ought,
nor can we love at all,
unless by thine own Spirit taught;
then hear, O hear our call!
4. We cannot serve thee as we should,
with reverence and fear;
we cannot do it, if we would;
but thine it is to hear:
5. to hear thy people, when they cry
for power to do thy will;
then hear us now; our wants supply:
be near thy people still.
6. Inspire our hearts, O Lord, with love;
with earnest love, and pure;
that we may live, and faithful prove;
and to the end endure.
Thomas Kelly, Hymns on various passages of Scripture, ca. 1853, Hymn 145.