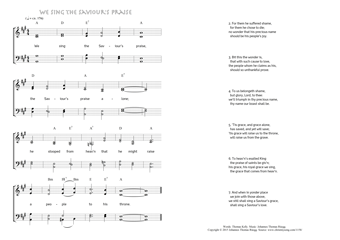 Christ My Song - 1158
We sing the Saviour's praise
(Thomas Kelly/Johannes Thomas Rüegg)
We sing the Saviour's praise.
"O Lord, I will praise thee." (Isaiah 12,1)
1. We sing the Saviour's praise,
the Saviour's praise alone;
he stooped from heav'n that he might raise
a people to his throne. PDF - Midi
2. For them he suffered shame,
for them he chose to die;
no wonder that his precious name
should be his people's joy.
3. Bit this the wonder is,
that with such cause to love,
the people whom he claims as his,
should so unthankful prove.
4. To us belongeth shame,
but glory, Lord, to thee:
we'll triumph in thy precious name,
thy name our boast shall be.
5. 'Tis grace, and grace alone,
has saved, and yet will save;
'tis grace will raise us to the throne,
will raise us from the grave.
6. To heav'n's exalted King
the praise of saints be giv'n;
his grace, his royal grace we sing,
the grace that comes from heav'n.
7. And when in yonder place
we join with those above,
we still shall sing a Saviour's grace,
shall sing a Saviour's love.
Thomas Kelly, Hymns on various passages of Scripture, ca. 1853, Hymn 186.