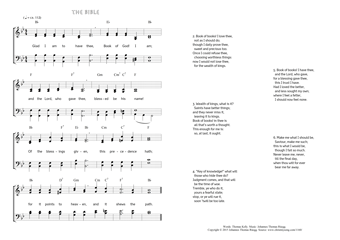 Christ My Song - 1160
Glad I am to have thee - The Bible
(Thomas Kelly/Johannes Thomas Rüegg)
The Bible.
"Thy word have I hid in mine heart." (Psalm 119,11)
1. Glad I am to have thee,
Book of God! I am;
and the Lord, who gave thee,
blessed be his name!
Of the blessings given,
this precedence hath;
for it points to heaven,
and it shews the path. PDF - Midi
2. Book of books! I love thee,
not as I should do;
though I daily prove thee,
sweet and precious too.
Once I could refuse thee,
choosing worthless things:
now I would not lose thee,
for the wealth of kings.
3. Wealth of kings, what is it?
Saints have better things;
and they never miss it,
leaving it to kings.
Book of books! in thee is
all that's worth a thought.
This enough for me is:
so, at last, it ought.
4. "Key of knowledge!" what will
those who hide thee do?
Judgment comes, and that will
be the time of woe.
Tremble, ye who do it,
yours a fearful state;
stop, or ye will rue it,
soon 'twill be too late.
5. Book of books! I have thee,
and the Lord, who gave,
for a blessing gave thee,
this I trust I have.
Had I loved the better,
and less sought my own;
where I feel a fetter,
I should now feel none.
6. Make me what I should be,
Saviour, make me such;
this is what I would be,
though I fail so much.
Never leave me, never,
till the final day,
when thou wilt for ever
bear me far away.
Thomas Kelly, Hymns on various passages of Scripture, ca. 1853, Hymn 503.