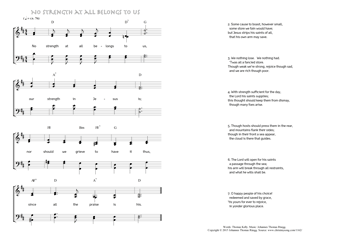 Christ My Song - 1162
No strength at all belongs to us
(Thomas Kelly/Johannes Thomas Rüegg)
No strength at all belongs to us.
"For when I am weak, then am I strong." (2 Corinthians 12,10)
1. No strength at all belongs to us,
our strength in Jesus is;
nor should we grieve to have it thus,
since all the praise is his. PDF - Midi
2. Some cause to boast, however small,
some store we fain would have;
but Jesus strips his saints of all,
that his own arm may save.
3. We nothing lose. We nothing had.
'Twas all a fancied store.
Though weak we're strong, rejoice though sad,
and we are rich though poor.
4. With strength sufficient for the day,
the Lord his saints supplies;
this thought should keep them from dismay,
though many foes arise.
5. Though hosts should press them in the rear,
and mountains flank their sides;
though in their front a sea appear,
the cloud is there that guides.
6. The Lord will open for his saints
a passage through the sea;
his arm will break through all restraints,
and what he wills shall be.
7. O happy people of his choice!
redeemed and saved by grace,
'tis yours for ever to rejoice,
in yonder glorious place.
Thomas Kelly, Hymns on various passages of Scripture, ca. 1853, Hymn 654.
(Two lines were originally longer than their corresponding ones:
5,2: "and lofty mountains flank their sides;"
5,4: "the cloud is there, the cloud that guides.")