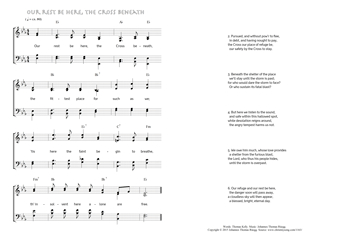 Christ My Song - 1163
Our rest be here, the Cross beneath
(Thomas Kelly/Johannes Thomas Rüegg)
Our rest be here, the Cross beneath.
"A covert from the tempest." (Isaiah 32,2)
1. Our rest be here, the Cross beneath,
the fittest place for such as we;
'tis here the faint begin to breathe,
th' insolvent here alone are free. PDF - Midi
2. Pursued, and without pow'r to flee,
in debt, and having nought to pay,
the Cross our place of refuge be,
our safety by the Cross to stay.
3. Beneath the shelter of the place
we'll stay until the storm is past;
for who would dare the storm to face?
Or who sustain its fatal blast?
4. But here we listen to the sound,
and safe within this hallowed spot,
while desolation reigns around,
the angry tempest harms us not.
5. We owe him much, whose love provides
a shelter from the furious blast,
the Lord, who thus his people hides,
until the storm is overpast.
6. Our refuge and our rest be here,
the danger soon will pass away,
a cloudless sky will then appear,
a blessed, bright, eternal day.
Thomas Kelly, Hymns on various passages of Scripture, ca. 1853, Hymn 596.