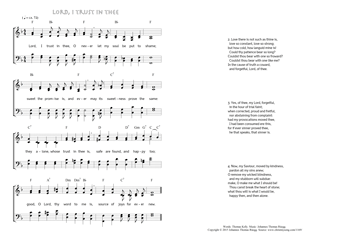 Christ My Song - 1169
Lord, I trust in thee, O never
(Thomas Kelly/Johannes Thomas Rüegg)
Lord, I trust in thee.
"In the Lord put I my trust." (Psalm 11,1)
1. Lord, I trust in thee, O never
let my soul be put to shame;
sweet the promise is, and ever
may its sweetness prove the same:
they alone, whose trust in thee is,
safe are found, and happy too;
good, O Lord, thy word to me is,
source of joys for ever new. PDF - Midi
2. Love there is not such as thine is,
love so constant, love so strong;
but how cold, how languid mine is!
Could thy patience bear so long?
Couldst thou bear with one so froward?
Couldst thou bear with one like me?
In the cause of truth a coward,
and forgetful, Lord, of thee.
3. Yes, of thee, my Lord, forgetful,
in the hour of trial faint;
when corrected, proud and fretful,
nor abstaining from complaint:
had my provocations moved thee,
I had been consumed ere this,
for if ever sinner proved thee,
he that speaks, that sinner is.
4. Now, my Saviour, moved by kindness,
pardon all my sins anew;
O remove my wicked blindness,
and my stubborn will subdue:
make, O make me what I should be!
Thou canst break the heart of stone;
what thou wilt is what I would be,
happy then, and then alone.
Thomas Kelly, Hymns on various passages of Scripture, ca. 1853, Hymn 166.