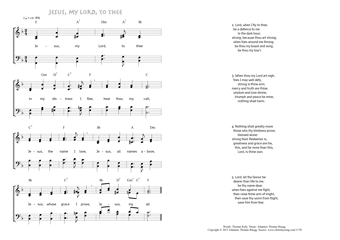 Christ My Song - 1170
Jesus, my Lord, to thee
(Thomas Kelly/Johannes Thomas Rüegg)
Jesus, my Lord, to thee.
"In my distress I called upon the Lord." (Psalm 18,6)
1. Jesus, my Lord, to thee
in my distress I flee,
hear thou my call;
Jesus, the name I love,
Jesus, all names above,
Jesus, whose grace I prove,
Jesus, my all. PDF - Midi
2. Lord, when I fly to thee,
be a defence to me
in the dark hour;
strong, because thou art strong,
when foes around me throng,
be thou my boast and song,
be thou my tow'r.
3. When thou my Lord art nigh,
foes I may well defy,
strong is thine arm;
mercy and truth are thine,
wisdom and love divine;
triumph and peace be mine,
nothing shall harm.
4. Nothing shall greatly move
those who thy kindness prove,
blessed alone:
strong their Redeemer is,
greatness and grace are his,
this, and far more than this,
Lord, is thine own.
5. Lord, let thy favour be
dearer than life to me,
be thy name dear;
when foes against me fight,
then raise thine arm of might,
then save thy worm from flight,
save him from fear.
Thomas Kelly, Hymns on various passages of Scripture, ca. 1853, Hymn 165.