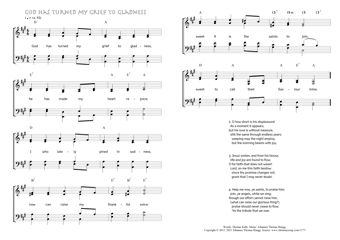 Christ My Song - 1177
God has turned my grief to gladness
(Thomas Kelly/Johannes Thomas Rüegg)
God has turned my grief to gladness.
"Thou hast turned for me my mourning into dancing."
(Psalm 30,11)
1. God has turned my grief to gladness,
he has made my heart rejoice;
I who lately pined in sadness,
now can raise my thankful voice:
sweet it is the saints to join,
sweet to call their Saviour mine. PDF - Midi
2. O how short is his displeasure!
As a moment it appears;
but his love is without measure,
still the same through endless years:
weeping may the night employ,
but the morning beams with joy.
3. Jesus smiles, and from his favour,
life and joy are found to flow;
O for faith that does not waver!
Lord, on me this faith bestow:
since thy promise changes not,
grant that I may never doubt.
4. Help me now, ye saints, to praise him;
join, ye angels, while we sing;
though our effort cannot raise him,
(what can raise our glorious King?)
praise should never cease to flow;
'tis the tribute that we owe.
Thomas Kelly, Hymns on various passages of Scripture, ca. 1853, Hymn 353.