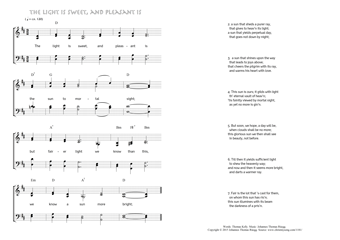 Christ My Song - 1181
The light is sweet, and pleasant is
(Thomas Kelly/Johannes Thomas Rüegg)
The light is sweet, and pleasant is.
"Truly the light is sweet." (Ecclesiastes 11,7)
1. The light is sweet, and pleasant is
the sun to mortal sight;
but fairer light we know than this,
we know a sun more bright; PDF - Midi
2. a sun that sheds a purer ray,
that gives to heav'n its light;
a sun that yields perpetual day,
that goes not down by night;
3. a sun that shines upon the way
that leads to joys above;
that cheers the pilgrim with its ray,
and warms his heart with love.
4. This sun is ours; it gilds with light
th' eternal vault of heav'n;
'tis faintly viewed by mortal sight,
as yet no more is giv'n.
5. But soon, we hope, a day will be,
when clouds shall be no more;
this glorious sun we then shall see
in beauty, not before.
6. Till then it yields sufficient light
to shew the heavenly way;
and now and then it seems more bright,
and darts a warmer ray.
7. Fair is the lot that 's cast for them,
on whom this sun has ris'n;
this sun illumines with its beam
the darkness of a pris'n.
Thomas Kelly, Hymns on various passages of Scripture, ca. 1853, Hymn 658.