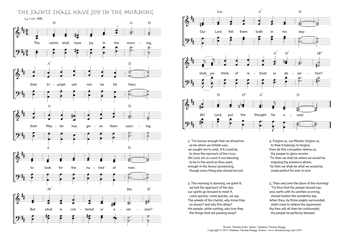 Christ My Song - 1185
The saints shall have joy in the morning
(Thomas Kelly/Johannes Thomas Rüegg)
The saints shall have joy in the morning.
"The upright shall have dominion over them in the morning."
(Psalm 49,14)
1. The saints shall have joy in the morning,
their triumph will not be till then;
their Master has given them warning
to look for the hatred of men.
But what is contempt or aversion?
Our Lord felt them both in his day:
shall we think of retreat or desertion?
Ah! Lord, put the thought far away! PDF - Midi
2. 'Tis honour enough that we should be
as he whom we imitate was;
we sought not to wish, if it could be,
to shun the reproach of the cross.
Ah! Lord, let us count it our blessing,
to be in the world as thou wast;
enough in thy favour possessing,
though every thing else should be lost.
3. The morning is dawning, we greet it;
we hail the approach of the day:
our spirits go forward to meet it,
come quickly, come quickly, we say.
The wheels of his chariot, why move thy
so slowly? and why this delay?
His people, while waiting, why love thy
the things that are passing away?
4. Forgive us, our Master, forgive us,
to thee it belongs to forgive;
from all this corruption relieve us,
thy people to glory receive.
'Tis then we shall be where we would be,
enjoying thy presence above;
'tis then we shall be what we would be,
made perfect for ever in love.
5. Then welcome the dawn of the morning!
'Tis thus that thy people should say;
and, earth with its vanities scorning,
should hasten the wonderful day.
When thou, by thine angels surrounded,
shalt come to relieve the oppressed,
thy foes will all then be confounded,
thy people be perfectly blessed.
Thomas Kelly, Hymns on various passages of Scripture, ca. 1853, Hymn 77.